Update Archives
archived news and updates
11/23/08 - Ms. Anderson is moving back to the US.
10/18/08 - *Sigh* Oh, David... Mr. Duchovny splits up with his wife.
7/28/08 - IWTB: Worth the wait?
7/28/08 - Now that I have seen it, I can say with jubilance: To heck with the critics! Go see I Want To Believe as many times as you can. :)
7/25/08 - TXF2 is leaving X-Philes wanting to believe.
7/25/08 - It's out! It's out! Don't walk...run to your nearest movie theatre and watch it! Remember, the better the movie does, the more likely it is that the producers will want to make more. :)
7/23/08 - The X-Philes still believe.
7/23/08 - Ms. Anderson prepares to greet X-Philes at the premiere of "I Want To Believe." (Though the article got it wrong; she is pregnant with her third child after Piper Maru and Oscar Griffiths)
7/22/08 - Mr. Carter and Mr. Spotnitz are just as loyal to the fans as we are to them.
7/22/08 - How Ms. Anderson and Mr. Duchovny have managed to avoid typecasting.
7/22/08 - A short interview with Mr. Duchovny about TXF2.
7/22/08 - TXF2: I Want To Belive will be mostly about Mulder and Scully, "the essence of The X-Files."
7/22/08 - CBS News talks about Mulder and Scully's chemistry.
7/21/08 - Some last minute posters (I can not believe how hard I had to look for a domestic poster)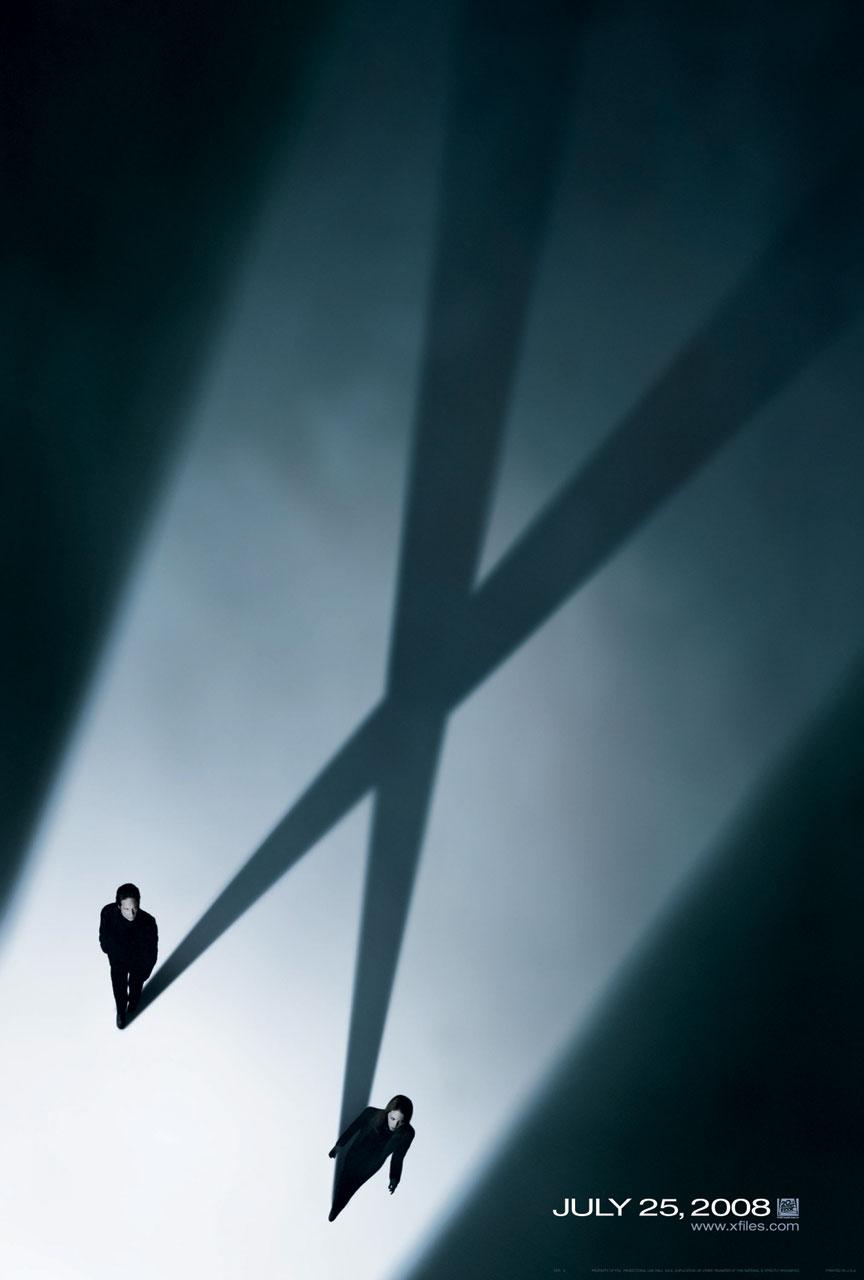 Click the above image for its full-size
7/21/08 - "Getting Spooky" with XF2. Also, that promo picture alone makes me want to see it even more. :)
7/21/08 - Ms. Anderson states it was "a little odd" playing Agent Scully again.
7/20/08 - The wonder of why The X-Files has returned to the big screen.
7/19/08 - Mr. Duchovny talks about his favorite leading men.
7/16/08 - X-Philes from around the globe are invited to the premiere of "I Want To Believe" at Grauman's Chinese Theatre on July 23rd!
7/8/08 - A new X-Files DVD set: Revelations, releases today. Buy it here. The "Revelations" set will feature the episodes: "Pilot" "Beyond the Sea" "The Host" "Clyde Bruckman's Final Repose" "Memento Mori" "Post Modern Prometheus" "Bad Blood" "Milagro".
7/6/08 - Ms. Anderson not ruling out a third marriage. Also of note, as the days wind down for TXF2, I will be working very hard to make news updates as often as possible. :)
6/10/08 - The trailer for X-Files 2: I Want To Believe is found at the official site: http://www.xfiles.com/, but this link is a bit quicker. :)
2/15/08 - Scenes from the set of X-Files 2.
12/23/07 - Wishing all you X-Philes a Happy Christmas with an X-Files Christmas favorite: How the Ghosts Stole Christmas
11/8/07 - A little late, but if you haven't already heard: The X-Files 2! July 25, 2008! I also added a review of the show and other tidbits to "About."
9/1/07 - Added a The X-Files forum! Discuss the beloved show with others.
7/25/07 - Uploaded a new Fan Fiction: Gone, a poem
6/16/07 - Added X-Files video collaborations to X-Files X-tras.
4/29/07 - Ms. Anderson ~ a lady on the move
4/29/07 - X-Files 2: still a possibility?
3/19/2007 - Major updates: Added the Image Gallery, moved older news to "Archives" at the top and reworked the layout of the entire site. Will be adding new episodes for viewing by the end of April and currently working on Shippers and Cast & Crew info. Check back soon!
2/7/2007 - Mr. Davis stars in The Messengers.
1/15/2007 - Ms. Gish has a baby boy, Cash Alexander.
1/14/2007 - Ms. Anderson drinks goat blood in Masai tribal ceremony in Kenya
11/25/2006 - Added Bloopers for Seasons One through Six.
11/19/2006 - Ms. Anderson has a boy, Oscar Griffiths!
10/14/2006 - Currently working on an info section featuring guest cast information, a downloads section where fonts, backgrounds and other items can be found, and reviews of the episodes. They should all be completed by the end of the month. Check back for updates!
9/29/2006 - Updated the quiz with new questions! It's bigger, badder, better!
8/12/2006 - Mr. Duchovny talks about the delay for the second movie
8/2/2006 - Ms. Anderson is having a second child.
6/25/2006 - Added videos! Episodes from Seasons One through Seven are all up and playing in Extras!
6/3/2006 - Major updates: Created X-Files Extras pages. Sounds and Fun Facts are up, Fan Fiction open, my own items will be added shortly; Episodes for the Extras page will up shortly; more updates to come!
5/20/2006 - X-Files 2 moves closer to reality.
4/24/2006 - Revamped and updated the Character Bios
4/23/2006 - Ms. Anderson is getting a divorce.

4/20/2006 - Mr. Duchovny appears at Princeton.
4/5/2006 - Mr. Mitch Pileggi turns 54 today!
4/2/2006 - Updated my The X-Files quiz
3/31/2006 - And she won it! BAFTA Awards
3/27/2006 - Ms. Anderson is up for BAFTA Television Award
3/13/2006 - Updated and revamped the Episode Guide
1/29/2006 - Ms. Anderson talks about living in London and The X-Files: here.
1/24/2006 - I am moving to my own server and I am recreating the site from the beginning. Updates should come far more often now as well....well, as much as they can.
5/9/2004 - Major site revamp occurring....seems people all around are giving up on their own sites...
5/19/2002 - Saying goodbye is the hardest part...
3/2/2002 - The Shipper section is up (mostly). More updates to come...
2/28/2002 - The character bios are up and complete. Yay!
4/9/2001 - I have created a The X-Files quiz. Take it and see how much of an X-Phile you are.
11/8/2000 - Welcome to my The X-Files world on the net!